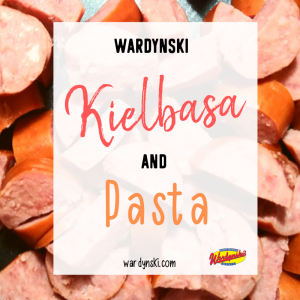 1 lb. Wardynski Smoked Polish Sausage, cut into 1/4 inch pieces
3 tbsp. extra virgin olive oil
1 medium, onion chopped
1/2 medium red bell pepper, chopped
1/2 medium green bell pepper, chopped
3 cups sauerkraut rinsed and drained
2 tbsp. Dijon mustard
1/4 cup dry white cooking wine
2 tbsp. fresh parsley, chopped
8 oz spiral pasta, cooked
Heat olive oil in large skillet over medium heat.
Add onion and peppers and sauté until peppers are beginning to brown.
Add sauerkraut, mustard and caraway seeds. Stir in wine and Polish sausage chunks.
Simmer mixture until sauerkraut is cooked. Serve over cooked pasta and sprinkle with chopped parsley.