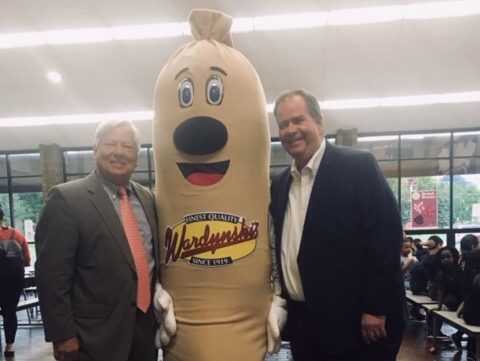 Check out all of the latest news coming out of Wardynski's! There are lots of exciting things happening and we are proud to share them with you.
How a Potato Could Propel Wardynski & Sons Through Another 100 Years
Find out how Botaniline can reduce the fat, calories, and sodium in your favorite foods, while also eliminating the need for fillers, binders, and additives!
Check out the full article in the Buffalo News here: How a Potato Could Propel Wardynski & Sons Through Another 100 Years
Helping to Make Healthier School Lunches
"For students in Buffalo Public Schools, the key to a healthier future is eating a school lunch today. And it's not what you might expect."
Click here to learn more: Buffalo Public Schools' Homegrown School Lunches
Wardynski's Introduces Botaniline Food Technology to Make Healthier Processed Proteins
After a century of bringing quality hot dogs, sausage, and bologna to WNY, Wardynski & Sons is excited to offer some new and healthier alternatives to the mix in their 100th year. Fueled by a desire to revolutionize the food industry in a health-conscious way, Raymond "Skip" Wardynski – owner of 100year-old Wardynski & Sons – has co-founded Botaniline, a food technology company focused on creating nutritious, low sodium, and chemical and allergen-free products using plant-based ingredients. Click here to learn more:
Botaniline and Wardynski 100th anniversary Press Release[7910]
Wardynski's Hot Dogs are Named the Best!
Who has the best hot dog in the Upstate New York area? According to newyorkupstate.com, we are! Check out the full list and reviews here:
The Battle of Upstate New York Hot Dogs
Wardynski Meats Brings Back Shelly Bologna
Click here to learn how Wardynski's brought the popular brand back to the Buffalo, NY area!