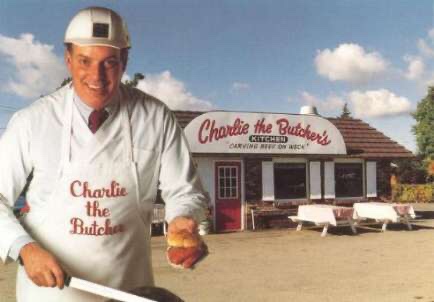 After many years of planning, tasting and working with different beef producers, Charlie found a deli beef he was proud to put his name on. In 2012, he paired up with Skip Wardynski as the distributor and they started offering it to local retail chain stores, delis, bars & restaurants.
In April of 2012, Charlie the Butcher Deli Beef made its debut at the home of the Buffalo Bisons, Coca Cola Field. It is such a fan favorite that it is still there today.
Charlie highly recommends the slice and dip method for preparing his deli Beef:
Heat au jus in saucepan until simmering.
Dip sliced roast beef in hot au jus and place on cut kimmelweck roll.
Top with a dollop of horseradish and dip the top of the roll in the au jus.
It makes this a perfect fit and very easy for bars, & foods service who have limited space but want to have a spectacular sandwich to serve.
This local favorite is choice beef that is
GLUTEN FREE, ALLERGEN FREE,
LOW FAT, LOW SODIUM
Truly a cut above.
If you are interested in having Charlie the Butcher for your business, just reach out to Peggy Rogers at progers@wardynski.com or 716-854-6083 ext. 237