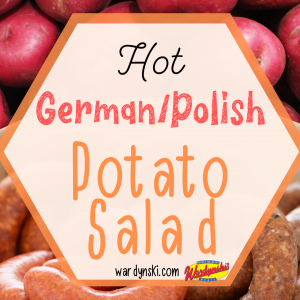 1 1/2 lb. Wardynski Smoked Polish Sausage
10 medium red potatoes
6 slices bacon cut into 1/2 inch pieces
1/2 onion, finely chopped
1/4 cup red wine vinegar
1/2 cup water
2 tbsp. flour
1 tbsp. sugar
1/4 tsp. salt
1/4 tsp. pepper
1 tsp. chopped parsley
paprika to garnish
Boil potatoes until fork tender, drain. Cut potatoes into 1/2 inch cubes, set aside.
In large skillet, cook bacon until crisp. Remove bacon and drain on paper towel, set aside. Pour off all but 2 tbsp. of the bacon grease.
Saute onion in bacon grease until slightly brown. Add flour, sugar, salt and pepper stir until well blended.
Gradually stir in the wine vinegar and water. Cook stirring until sauce is thickened.
Dice Polish sausage and add to sauce along with the diced potatoes, parsley and bacon. Mix well.
Cook for a few minutes longer to warm the salad. Garnish with paprika. May be served at room temperature.